United Striking Options: Who to Bring In?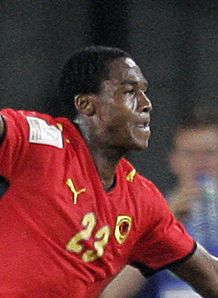 Sky Sports News have announced that Manucho has been given a work permit, allowing him to play for Manchester United. The 24 year old Angolan hit man's arrival is welcome news to Sir Alex's ears. Having spoken of his diminishing confidence of landing another striker, the arrival of Manucho will lighten the load of pressure on young Fraizer Campbell. The arrival will also ease the injuries worries surfacing at Old Trafford.
However, Fergie will still maintain hope of signing an experienced striker, most likely in the form of Dimitar Berbatov. But the qualities Manucho brings to the fold will add an extra dimension to United's attack. Height, power and aerial ability, not to mention sheer athleticism and a mean shot from range. But with Fergie still looking for another hit man, and Berbatov looking increasingly likely to stay at White Hart Lane, what other strikers could do a job? Thierry Henry? Injury prone, getting on in age, and unlikely to return to England for any club but Arsenal. Samuel Eto'o? Maybe, but there are big question marks over attitude, plus he looks set to stay at Barcelona. David Villa is reportedly close to signing a new contract at Valencia.

Which leaves a small number of possible targets. But a name that sticks out amongst the names is Klass Jan Huntelaar. He has everything that a great goalscorer needs. He certainly knows where the net is, as his impressive record shows. He looks like a Ruud van Nistelrooy who won't need a working system changed radically to fit his needs. One criticism of Ruud was the system while he was at United was to slow, too fixed. But since he left, a flexible and adaptive system helped to regain two league titles and a Champions' League trophy to boot.
Whoever United sign, if anyone at all, United will have to improve a lot from their disappointing opening fixture against the Toon. Hopefully the addition of Manucho help.
Discuss this and much more at the Premiership Talk Forum!
Reader Comments
The below views are those of our readers and do not reflect the opinions of Premiership Talk or its employees.
Football News 24/7